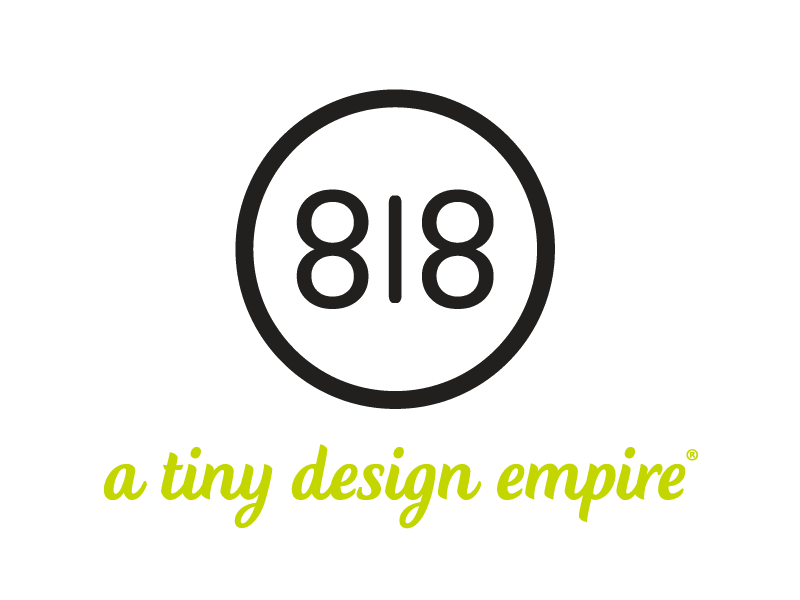 818 is a tiny design empire that specializes in brand development…
for businesses, product labeling and branding for the brewing and hospitality industries and environmental graphic design for corporate and athletic spaces.
Great graphic design is only great if it accomplishes the right goals…
whether that's evoking emotion, increasing brand equity, driving sales or building the brand within your building. We focus on harnessing the power of design to move our clients' businesses forward.


DIGITAL
Websites
Motion Graphics
Presentations
We also believe working with a design team should be enjoyable…
not something that feels like verbal wrestling. At 818 you'll work with people who are high-talent and low-maintenance, keenly insightful and highly collaborative, devoted to good design and focused on clients.
Melissa Carlson
Partner
As 818's Creative Services Manager, Melissa enjoys learning about an organization's brand and brainstorming ways to take it to the next level. With an advertising background and an extensive knowledge of environmental graphics and signage, she has experience in a vast array of projects and is always ready to take on a challenge. She also has a love for biking, volleyball, sunshine, craft beer, art and her dog, Riley.
515-720-3895
melissa@818iowa.com
Rachel Abel
Partner
Serving as the team's Account Manager, Rachel listens to the client's design needs and works hard to find the right solution, not the first solution, to any project. She has experience in corporate marketing, environmental graphics and signage projects, and helps create compelling brand extensions for companies of all sizes. She enjoys golfing, meeting people, quoting movies, drinking craft beer, learning to play piano and taking road trips.
515-865-8665
rachel@818iowa.com
Megan Pralle
Designer
With a work smarter, not harder approach to creative problem solving, Megan brings ideas to life in a no-nonsense manner. She helps clients create, elevate, and maintain their brand integrity and doesn't shy away from a challenge. In her free time, Megan plans travel adventures and obsesses over Chicago sports, but mostly she's a Netflix junkie who lives for burritos, craft beer, coffee, and having strong opinions on what can considered a grilled cheese sandwich.
319-883-0976
meganp@818iowa.com
Kate Roth
Designer
Kate has a heart for design with a brain for business. With a graphic design background and a passion for entrepreneurship, she believes great design starts with a healthy dose of curiosity and collaboration. The best part of her job is when beautiful design is used to accomplish a client's business goals. When she's not drooling over patterns, you can find her illustrating, eating too much chocolate, backpacking in a National Park, learning a new recipe, and becoming more obsessed with her little mutt, Luna.
Bree Glenn
Designer
Bree strives to create design solutions that elevate every aspect of the human experience — from daily comforts to exciting spectacles. Shaped by her background in 3D Design, she uses spatial conception and digital rendering skills to bring a client's most ambitious ideas to life. She loves game nights, sketching, sunny hikes, craft beer, going to the movies, thrifting, slathering bread with pesto, and convincing her cat to walk on a leash.
Creativity is fun. Creativity is powerful. 818 puts both fun and power into every project we do. Let's talk about working together today.